Are you thinking of finally investing in a chimney for your kitchen? Well, you are at the perfect spot as today we have brought to you a detailed guide with our honest reviews around the best kitchen chimney in India 2023.
You can't disagree with the fact that Indian Kitchens are quite spicy. We do take in use of multiple spices to build our delicious spicy taste in our Indian Kitchens.
Often our eyes get wet & cry due to the hot fumes produced in the kitchen during that cooking time. Not just that, even these fumes leave their mark forever on the walls of the kitchen.
I know you want to get rid of this problem and don't worry we are here to help you out with that. Well, we won't waste your time telling what & why's of a kitchen chimney right now. Let's get straight to the list of best kitchen chimneys in India 2023.
However, there is a proper buying guide & FAQ section available after the product reviews in this article. Don't forget to miss out on that. Also, if you want to go with the latest filterless technology models, here is our dedicated guide on the best auto-clean chimneys.
10 Best Kitchen Chimney in India 2023
Kitchen chimneys weigh a lot over pockets. You can't just go and buy any random chimney out there and expect it to work like a charm for years.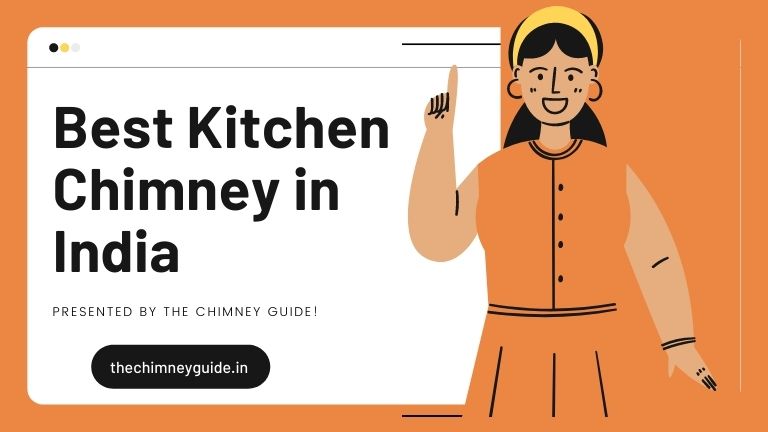 Firstly, you need to find the best fit for your budget in the market. Don't worry, we have sorted that out here in this article. Next, you need to invest a good amount in the installation of the chimney.
Not just that, if you want it to keep going for several years. You must take care of it, either by having a company service or by yourself.
Basically, what I want to say is, kitchen chimneys are a costly investment so you must study before making your final buying decision. To make that easier for you, here's our updated list of the best kitchen chimneys in India in 2023. Let's get started with the first one.
1. Hindware 90cm 1200 m3/hr - Nevio 90
Hindware is one of the most favored brands by consumers in India while talking about kitchen chimneys. This is one of their very popular models and is available in two different sizes.
You can opt for either the 90cm or the 60cm variant depending upon your budget and requirements. Both the variants have a suction capacity of 1200 m3/hr.
It comes along with a 1-year product warranty in addition to 5 years on the motor. This means you can anytime avail free benefits if you face any problems during the warranty period.
It is an auto-clean baffle filter type of chimney with an easy-to-use touch control panel. In addition, it has a beautiful stainless steel design with good built quality that ensures the long life of the appliance.
Not just that, it also does have two energy-efficient LED lamps on the edges that you can turn on while cooking in the kitchen. The metallic oil collector works efficiently in collecting the dirty oil produced from the fumes of the cooking.
Overall, if this suits your budget, it is the best option that you must opt for in your kitchen. If it's a little out of budget, go for the 60cm model.
With a beautiful curved design, efficient working mechanism & easy to use feather touch control, this auto-clean chimney is the best kitchen chimney in India 2023. Here is our dedicated guide about the best Hindware chimneys.
2. Eurodomo 60cm 1200 m3/hr
Eurodomo is yet another popular kitchen chimney brand in India. This 60cm model deserved to get listed in our list of the best kitchen chimneys in India 2023.
Again, this is also available in two sizes, 60cm & 90cm. You can choose the one which suits you best depending upon your gas stove & kitchen area.
It is a curved glass wall-mounted kitchen chimney that has a 1200 m3/hr suction capacity. The special thing here is that even with 1200 m3/hr suction power it does not make much noise as the max noise unit of this appliance is 58 decibels.
This Eurodomo 60cm model works on baffle filter type technology. That means you need to get regular cleaning every 6 months to keep this appliance smoothly running.
With the latest auto-clean technology, the cleaning of this device is not much of a hassle. It comes with an oil collector that filters all the grease out of the chimney automatically.
If you have a 2-4 burner gas stove, this Eurodomo 60cm kitchen chimney would be probably the best fit for your kitchen. However, if you need larger space or have a 5-6 burner gas stove, you must check out the Eurodomo 90cm model.
With 1 year of device warranty and 5 years of motor warranty, this model also has complete touch control. You can choose the variant which suits the best for your kitchen area.
3. Faber 60cm 1200 m3/hr Filterless Chimney
The Faber 60cm 1200 m3/hr Hood Orient is one of the best filterless kitchen chimneys in India. Yes, you read it correctly. This is an advanced filterless technology chimney that works without even filters.
This makes your life much easier as you'll not have to get it cleaned again and again like the baffle filter chimneys. That's one reason why people prefer this as it has no yearly maintenance cost.
The Faber 60cm kitchen chimney is mostly suitable for a 2-4 burner gas stove. With 1200 m3/hr powerful suction capacity, it is ready to suck heavy grilling and frying fumes produced during cooking inside the kitchen.
With the thermal auto-clean technology, cleaning up this Faber chimney becomes very easy. As you just need to press a button and the chimney does all the cleaning work for you.
What makes this kitchen chimney unique from the others is its motion sensor technology. Yes, it does have the regular touch control panel to handle the chimney.
But in addition to that, with the motion sensor controls, you can control the chimney with the wave of your hands. It becomes so much easier to control the appliance without even touching it.
This becomes very handy when you have oily hands and you don't want to touch the chimney, you can just wave in your commands to the chimney and you're good to go.
If you have a small-sized kitchen with a regular 2-4 burner gas stove and you experiment with heavy grilling and frying inside your kitchen, this Faber chimney is probably the best choice for you.
Recently, the brand has introduced an upgraded variant of this model with much more efficiency. This means this is one of the fresh and best options in the market.
Although, if you need you are free to choose the older variant too. But that lacks the motion sensor control feature that I'm sure you don't want to miss out on. If you choose this as your desired brand, don't forget to look on our best Faber chimney guide.
4. Elica 60cm 1200 m3/hr 2 Baffle Filter Chimney
Elica is quite very popular for its kitchen appliances in India. It has a decent collection of kitchen chimneys from baffle filter type to filterless.
Here this Elica 60cm model comes along with 2 Baffle Filters that work efficiently in keeping the kitchen smoke & fume free. The suction capacity is 1200 m3/hr for this model, however, a 1425 m3/hr variant of the same model is also available in the market.
It has an astonishing design that makes the kitchen more beautiful. There are easy-to-use touch control panels with all the manual controls to handle. Down on the body, two side lamps are also given in the chimney.
If you are researching a chimney for a 2-4 burner gas stove, then this is probably the best 60cm auto clean baffle filter kitchen chimney in India. The brand has mentioned a 1-year product warranty and 5 years motor warranty on this model.
When talking about 60cm size chimneys, this is the most popular kitchen chimney in India. You must consider this one if it suits your budget. But, if you have a very smoky kitchen, you must go for its second variant that comes with 1425 m3/hr suction capacity.
Elica is surely the number one and most reputed kitchen chimney brand. If you want to explore more options available by this brand in the market, read our complete guide on best Elica chimneys.
5. Elica 60cm 1200 m3/hr Filterless Chimney
Elica WDFL 606 HAC MS NERO chimney would be the best choice for people looking for the best filterless chimney in India. 
The earlier one was Elica's baffle filter chimney and here comes the filterless technology one. This model gets you rid of the 6-month cleaning cycle as it does not have any filters. By the way, for regular cleaning, it has auto-cleaning technology as well.
With standard 1200 m3/hr suction power, this chimney competes against all other brands in the market. The USP of this kitchen chimney is that it comes along with motion sensor technology.
Along with the regular touch control panels, you would be able to control the chimney by waving hands in front of the chimney body. With a 1-year device warranty & 5-year motor warranty, this model fulfills all the features given by other brands in their chimneys.
But what makes this chimney one of the best-sellers by Elica is that at such an affordable cost, this chimney comes with filterless technology & has motion sensors as well. It's a good option if you don't want to go with a baffle filter-type chimney.
6. Faber 60cm 1200 m3/hr Filterless Chimney
Faber is very popular because of its filterless chimney section in India. Here this, Faber model is known as Hood Everest BK 60 kitchen chimney. It is another filterless technology-based chimney, also it is one of their best sellers in the market.
We already listed a Faber 60cm Filterless chimney above in the article. But that model does not have a bigger size variant. If you liked that model but the size is not suitable, here this is the one especially we brought for you.
This Faber filterless chimney model is available in both 60cm and 90cm sizes. Now if you get confused between the 60cm models, let me tell you that this Faber 60cm Hood Everest model is way more popular among consumers than the Hood Orient Model.
It has a neat classy black curved design that looks really great in the kitchen. Talking about the features, it is an auto-clean chimney with a touch and gesture control system.
The max noise value is 58db that is very standard in the market compared to other products. Overall, it is the perfect choice for you if you want a motion-based sensor along with filterless technology benefits.
Comparing it to the Faber Hood Orient 2019 model, Faber Hood Everest would be a better choice as it has a motion-based sensor in addition. However, the brand has introduced a newer upgraded Hood Orient 2021 model, in which they have gesture control too.
7. Hindware 60cm 1100 m3/hr Baffle Filter Chimney
Hindware Sabina Black 60 model is for tightly budgeted people. If you have a strict budget of somewhere around Rs. 10K, this might be the best suit for you.
This kitchen chimney has 1 baffle filter and has a suction capacity of 1100 m3/hr. It works well for small kitchen sizes with a 2-3 burner gas stove. Even a 4 burner gas stove would work hand-in-hand with it.
It has a standard product warranty just like others in the market of 1 year on the device itself and 5 years on the motor. The motor power here in this one is 200 W. The design is elegantly curved black in color and the blower is built with plastic.
Considering these elements together, it is the best budget kitchen chimney under 10k. Obviously, it won't be performing like the other models we talked about in the article. As it has a lower suction capacity, single baffle filter & 200 W motor.
Please note that it does not have an auto-clean function. Still, for small kitchen sizes, it is a good-to-go option as it gives all the basic features like push-button control and mainly efficient air cleaning inside the kitchen.
8. Elica 60cm 1200 m3/hr WDAT HAC 60 NERO
Up to here, we listed all the top-notch models by all the best kitchen chimney brands in India. Now, these are just some bonus recommendations for you to have a look at more variety of products in the market.
Again, we have filtered this out and still, these are the best in comparison to the rest of the other ones in the market. Let me tell you how and why.
This ELICA WDAT HAC 60 Nero is a 60cm kitchen chimney that comes with 2 baffle filters. Yes, it is suitable for 2-4 burner gas stove kitchens.
Also, the suction power is as per the standards of 1200 m3/hr. With a good black classy design, auto-cleaning feature, touch panel, and 2 baffle filters. This is one of the best recommendations from us for 2 baffle filter kitchen chimneys in India.
This model is available in two sizes, 60cm, and 90cm. Go for the one depending upon your criteria. Remember, Elica is quite good with their kitchen chimneys and this is one of their high selling models.
9. Elica 90cm 1425 m3/hr WD TBF HAC 90 MS NERO
This Elica 90cm has a powerful suction capacity of 1425 m3/hr. If you're having a decent budget to invest in a good kitchen chimney then this one is for you.
Most of the chimneys in the market have 1200 m3/hr suction capacity as it is a basic standard for most of our Indian Kitchens. This model also has a 1200 m3/hr variant if you need it.
But if you have a bit larger space in your kitchen or you do frequent grilling and frying in your kitchen you need a powerful machine.
With its huge 1425 m3/hr suction power, this Elica kitchen chimney can easily suck in all the fumes and smoke from inside the kitchen to give you a clean and fresh environment never like before.
It works well for every gas stove size ranging from 3 burners to 5 burners. With a 5-year motor warranty and 1-year device warranty, this competes against all other popular models in its price segment.
In the end, all I'd say is if you need frequent smoke cleaning and your kitchen is a bit larger compared to standard Indian kitchens and you have a good budget to spend.
This Elica 90cm WD TBF HAC 90 MS NERO is worth buying value for money kitchen chimney. From auto-clean technology to touch and motion gestures. This chimney does come up with 2 baffle filters. That's what we highly recommend.
As larger areas need powerful cleaning and filterless chimneys are a bit slower compared to baffle filter chimneys. To maintain a smoke-free environment in a large-sized kitchen, it's better to go with this 2 baffle filter chimney compared to a filterless one.
That doesn't mean filterless chimneys are not good, they work efficiently but we recommend them for small-sized kitchens. Hope you got what I'm trying to convey here.
10. Faber 90cm 1200 m3/hr Hood Crest Plus
This Faber 90cm Hood Crest Plus model fits the best to end this list of Top 10 Best Kitchen Chimney in India 2023. This is a filterless technology-based kitchen hood with Auto-cleaning functionality as well.
We have already listed two Faber models in this guide, but both of them were 60cm models. If you have a larger kitchen and you need another good option under the 20K price bracket, this is the one we would recommend you to.
With the standard 1200 m3/hr suction power, this Faber chimney is an easy fit for 3-6 burner gas stove kitchens. Just like the other models, it does have 5 years motor warranty and 1 year on the product.
Further talking about its controls, it has a touch panel along with 3-speed motion sensor technology. Overall, the curved black design of this hood makes it more worthy with all these fancy features involved.
For the price it comes with, this kitchen chimney is definitely a value for money deal for people looking for a chimney for a large-sized kitchen.
It has now two variants as the brand has introduced an upgraded 2020 model as well. Go for it as it costs cheaper compared to the previous one.
Kitchen Chimney Buying Guide (2023)
To be honest, Kitchen chimneys are really a costly investment but they are definitely worth it. To make sure your investment doesn't go wrong, here we did our hours of research to compile this list of the best kitchen chimney in India 2023.
Now that you have a clear picture in mind about kitchen chimneys. It's now time for you to study a bit more about what's going on in the market. The first thing you need to keep in mind while buying a kitchen chimney is the brand you're opting for.
All the listed products in this guide are from the top-notch kitchen chimney brands available in India. Here is a quick list of the Top 5 Best Kitchen Chimney Brands in India.
Top 5 Best Kitchen Chimney Brands in India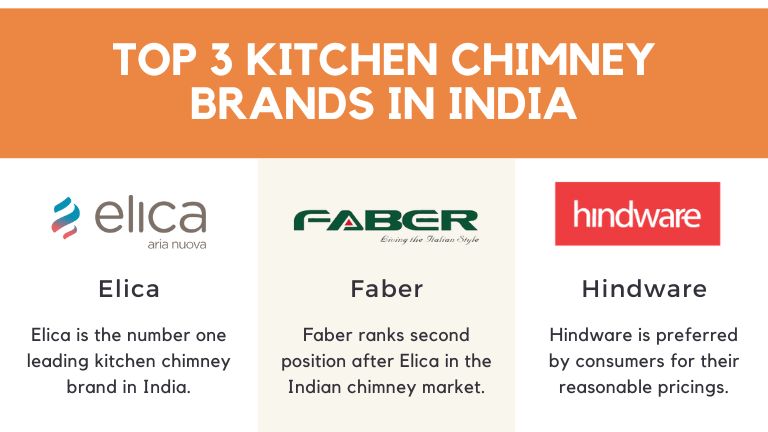 1. Elica: Elica is probably one of the most loved brands by consumers in India for their kitchen chimneys. When our experts were researching in the market for this guide they found, Elica has the highest best-sellers in India for the kitchen chimney market. Even in this list of the best kitchen chimney in India 2023, this list kept revolving around Elica chimneys. Definitely, Elica is one of the most loved chimney brands in India that you can go with.
2. Faber: After Elica, I can say Faber is the second-best kitchen chimney brand here in India. They are quite popular for their filterless chimney models in India. If you have a decent budget and you have a large kitchen area, this is the brand you can go with. They have excellent after buying service as well.
3. Hindware: Hindware entered India in the year 1962 with their sanitaryware products. Currently, they're leading the sanitaryware market in India. They have a variety of kitchen chimney models dedicated to Indian consumers. Definitely, you can trust this brand to buy a kitchen chimney.
4. Eurodomo: Eurodomo is one of those not-so-popular kitchen chimney brands as of now. But in the future, they'll definitely compete with other brands in the market. This is because of the fact that they are just entered the Indian market. At first, they were not really popular, but as the brand kept coming out in the market, consumers are actually loving their products. They're now popular because of their affordable prices.
5. Glen: The last brand we'd recommend you to go for is the Glen. It's again not a very popular company for chimneys. But slowly and steadily they are getting into the market with their excellent noise canceling chimneys in India. Their appliances work without making much noise as compared to the other brands.
Now I know you still have some queries left. Like which kind of chimney you should opt for? Baffle Filter vs Filterless chimney? Manual vs auto-clean chimney? Duct vs Ductless chimney? Or what is the difference between chimney and exhaust fan?
So the next thing now to take care of is to clear these queries so that you have some knowledge about these technicalities of modern electric kitchen chimneys. Let's get started with clearing these queries.
| | |
| --- | --- |
| Baffle Filter | Filterless Chimney |
| Baffle Filters are made of aluminum or stainless steel built. | Filterless chimneys do not have any filters at all. |
| It makes some noise while in use. | Filterless chimneys provide silent operations. |
| Baffle filters need cleaning every 6 months. | They do not require any cleaning to sustain for the long term. |
| Baffle Filters enhance the build quality of chimneys. | Filterless chimneys perform very well at suction even at low power. |
| A baffle Filter chimney is an affordable option but they have a maintenance cost. | Filterless chimneys are expensive than baffle filter ones but do not have any maintenance cost. |
| Recommended for heavy oil usage. | Recommended for normal oil usage kitchens. |
Auto-Clean vs Manual Chimney
| | |
| --- | --- |
| Auto-Clean Chimney | Manual Chimney |
| Auto-clean chimneys have a bowl-shaped oil collector. | Manual chimneys do not have any oil collectors. |
| The oil collector collects all the particles from the fumes. | Oily grease gets stuck to the frame of the chimney. |
| You can detach the oil collector to clean it. | You need to manually take care of the chimney. |
| Auto-clean chimneys are reliable and work efficiently in the long run. | Due to the absence of oil collectors, they can get damaged internally because of the dirt. |
| They have a long life span. | Short life span if not taken care of. |
| | |
| --- | --- |
| Chimney | Exhaust Fan |
| Chimneys are efficient in removing smoke, grease, dirt, & oil particles from the kitchen. | Exhaust Fans just regulate the airflow and help in removing the smoke from the kitchen not greasy & oily fumes. |
| Kitchen Chimneys reduces the efforts required to clean the kitchen daily. | As Exhaust fans do not remove oil & grease, you have to manually clean the kitchen daily. |
| Kitchen chimneys consume a lot of electricity. | Exhaust fans do not consume much power. |
| Kitchen chimneys are very expensive. | Exhaust fans just cost around Rs. 1,000. |
| Chimneys are equivalent to 15 Exhaust Fans. | After all, it's just a fan that regulates some airflow. |
These were a quick comparison for all your obvious queries regarding chimneys. In case you need detailed info around these topics, check out our detailed comparison posts.
5 Important Things to Consider While Buying a Chimney
While buying any heavy investment appliance, you must have proper knowledge around it. So that you can choose the best fit for your home. This is really important if you want that your chimney to live a long healthy life.
Below are a few important things that you must and must consider while buying a chimney. In fact, these are the most important factors that you should consider while choosing a kitchen chimney for your home.
In the Indian Market, you'll mostly be able to see two popular chimney designs in the market. Wall-Mounted Chimneys & Ceiling-Mounted Chimneys, you'll have to choose one from these.
As you might have got it already by their names, yes, wall-mounted chimneys are attached to your kitchen walls whereas ceiling-mounted chimneys stick to the ceiling of your kitchen.
Here, you have to take important note that what kind of kitchen design do you already have? Do you have space to mount your chimney over the wall above your stove? Or is it a good idea to go with the ceiling-chimneys?
Depending upon your kitchen design, you must opt for the correct kitchen chimney design so that you don't face any problems while and after installation of your chimney. Here is our complete guide that explains the different types of chimneys in India. You may read this to figure out the suitable chimney design or type for your home.
Another very important thing that you need to think about is the kitchen chimney size. For detailed information, do read our complete guide on how to choose correct chimney size for your kitchen.
To give you a quick answer, there are two commonly available chimney sizes in our Indian market. You can either choose a 60cm chimney or a 90cm kitchen chimney.
The only thing to make sure while choosing the chimney size is that it must at least cover up your above-stove area so that it can suck hot fumes & gases properly in order to provide you with healthy & smoke free environment in your kitchen.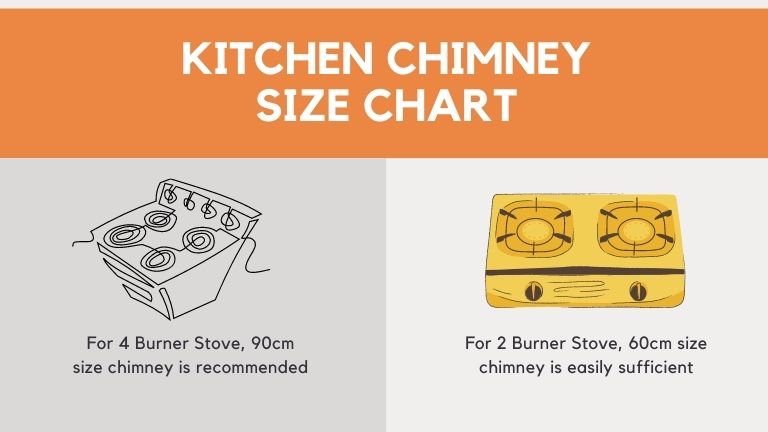 Generally, for a 2-4 burner gas stove, 60cm chimney is the recommended size. It can easily cover up the complete stove area to give you humid-free cooking experience.
For 3-5 burner gas stoves, you can go for a 90cm size kitchen chimney so that it can handle all the burners properly if you're using all of them simultaneously.
Also, make sure whichever chimney size you choose, it must get fit within your kitchen area where you want to install it. For correct calculation, read our chimney size calculation guide.
If you're not looking for a cheap option, anything above Rs. 10,000 price range is considered good option. All the kitchen chimneys in this review guide list are mostly in and around this price bracket.
Depending upon your budget, you have to make sure you are choosing the best fit for your needs. There are various models available in the market under same price bracket.
But all these different brands provide you with their own unique features in their models. You need to choose which features do you want and is it really worth it's price?
Then you need to thoroughly compare the best filtered models to choose the right option for your kitchen. Choosing a kitchen chimney is really tough. But we made it simpler for you by bringing in this review guide.
That's all, make sure the price you're paying for the chimney is all worth it. If you're paying above Rs. 10,000, your chimney must include features like auto-cleaning, gesture controls, & filterless technology etc.
You can either go with a filter based chimney or you can also opt for a filterless kitchen chimney if you do not have high oil usage in your kitchen.
In case you think you do heavy oily frying in your kitchen, you have to choose a filter-based kitchen chimney in that case.
In India, mainly three types of chimney filters are available in the market, Mesh Filter, Baffle Filter, or Charcoal Filter.
Straightforwardly, Baffle Filters are the best in terms of maintenance cost, efficiency and everything, as compared to the other types of chimney filters.
So prefer choosing a kitchen chimney that comes with the baffle filter technology as it will give you more efficient cleaning and you won't have to spend much during the maintenance.
Once you have sorted out all the above listed points, the final and one of the most important factors to consider while choosing a kitchen chimney is the warranty.
As you know if you are spending huge money on a kitchen chimney, you want it to last for at least 5-10 years. It's a long term investment right?
So you need to make sure that you are availed with long term warranty so you can get your chimney repaired easily without any hassles in case you face any problems in the future.
Most of the kitchen chimneys do come with 1-year warranty on the appliance and 5-years long warranty on the motor of the chimney.
Make sure you do meet at least these warranty period while choosing your kitchen chimney. If you're getting above it, then it's definitely a much better choice.
1. Should you go with ductless chimneys rather than ducted ones in order to save some bucks?
Well, to be honest, till today, ducted kitchen chimneys are the best. They are way more efficient in working as compared to the ductless ones. Yes, the technology is evolving and ductless chimneys are also good at cleaning smoky kitchens.
But the thing is if you perform heavy grilling and frying in your kitchen then ducted kitchen chimneys should be your choice. However, for normal usage, you can opt for ductless chimneys as they'll save you later maintenance costs.
2. Which chimney size is better 60 cm or 90 cm?
The size & design of the chimney should be decided in accordance with your requirements. If you use a 2-burner stove in the kitchen, a 60cm kitchen chimney would be more than enough for it to properly handle the above-stove area.
However, for 3-5 burner stove kitchens, we recommend going with the 90cm size as they consume a large area so you need suction around that area as well.
3. Can you clean the chimney yourself at home?
Yes, you can, if you don't want the hassles of contacting service people to clean up your chimney, you can easily do it yourself as well at home. If you want to save money, we recommend you to learn the kitchen chimney cleaning process. Here's our detailed guide on how to clean a kitchen chimney at home.
4. Which type of filter works better in chimneys?
There are two types of filters that are popular in kitchen chimneys, Mesh Filter and Baffle Filter. In comparison, Baffle filters are 30% way better compared to mesh filters.
5. Are auto-clean chimneys really better than manual ones?
Auto-clean chimneys cost more than manual ones but they are really worth the price as you get rid of the manual cleaning process. If your budget is comfortable with the price, you must go for the auto-clean models instead of the manual ones.
Kitchen chimneys are a costly investment but no one can't deny the fact that they are worth it. If you currently live just with an exhaust fan in the kitchen, try gifting your kitchen a chimney ventilation system to get rid of the hot fumes & air.
Modern auto-clean chimneys have excellent features along with just cleaning things, like LED lamps that help a lot while cooking. If you still are confused about whether you should buy a chimney or not, you probably aren't a cooking scientist.
But if you are a real cooking guy or girl that experiments with heavy oily grilling & fryings in the kitchen regularly, you need a kitchen chimney installation for sure.
We tried to make things simple for you and did research by our side to present this long detailed guide on the best kitchen chimney in India 2023. For more quality info about kitchen chimneys, stay updated with The Chimney Guide!