Hindware has recently stepped into the Indian Kitchen Chimney market and they have a really good collection of chimneys for our Indian homes. Today in this guide, we are going to list out the best hindware chimney reviews in India 2023 that you can buy for your home.
Before we begin, let me tell you there are just a few good brands that have introduced modern kitchen chimneys in India. Hindware is one of those and has recently entered the market with its unique models at a reasonable cost.
That is one of the reasons why Hindware auto-clean chimneys are getting popular these days. They are of good inbuilt quality, work efficiently and face no major problems in the long run.
Before Hindware, Elica kitchen chimneys and Faber kitchen chimneys were very popular in the market. If you want to consider looking at other brands as well, here is our detailed kitchen chimney reviews and buying guide.
Anyways, let's not waste much more time, here is the updated hindware chimney price list list 2023 with detailed reviews. This list includes all the models from 60cm to 90cm, auto-clean chimney & filterless as well. So you won't have to research more after going through this guide.
Top 7 Best Hindware Chimney Reviews in India 2023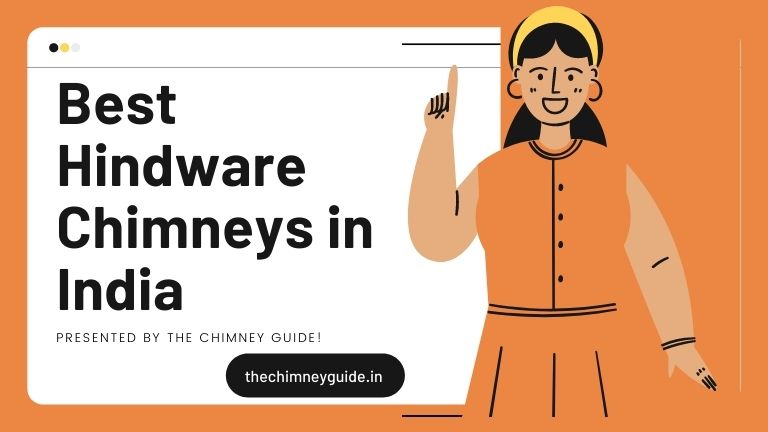 Let me tell you how we're bringing you this list. Our team went through core research to list out all the hindware chimneys available in the market. Then we sorted all the products on the basis of their pricing and features.
Also, we focused on what are the best-selling hindware chimneys in the market. Finally, we came to our conclusion and here we present you this guide on the best hindware chimney reviews in India 2023. Let's begin.
1. Hindware Nevio 60cm 1200 m3/hr (1 Baffle Filter)
The Hindware Nevio 60 is one of the best hindware auto-clean chimneys in India. The size of this chimney is 60cm, whereas a 90cm size is also available in this model.
This chimney offers a 1200 m3/hr suction power that is the standard power rate of chimneys in the Indian market. It has a single baffle filter that separates grease and dirt from the smoke.
As it's a baffle filter type chimney, it needs a constant cleaning at 6 months of interval. Hindware offers 1 year of warranty on this model along with 5 years warranty on the motor.
With the help of its thermal auto-clean technology, you can easily clean this chimney with a single tap of a button. It is definitely a worth buying option if you're looking for the best hindware 60cm chimney in India.
2. Hindware Nadia 60cm 1200 m3/hr (Filterless)
The Hindware Nadia 60cm is a filterless type kitchen chimney that comes along with auto-clean technology as well.
Again, this hindware chimney is also available in 90cm size. So no matter if you have a 2-3 burner stove or a bigger one in your kitchen, it has options that'll suit your requirements.
This hindware filterless kitchen chimney also comes with motion sensor technology along with the regular touch control panel.
That comes very handily if you don't want to touch chimney controls with your oily hands in the kitchen. You can easily control it by just waving your hands.
With a 1-year product warranty and 5 years motor warranty, this chimney definitely suits the best fit for regular-sized Indian kitchens. It is available in 60cm & 90cm sizes, along with two color options, Black & Inox.
3. Hindware Sabina 60cm 1100 m3/hr (1 Baffle Filter)
The Hindware Sabina 60cm chimney is what we recommend for a bit of tight-budgeted people. If you don't want to invest heavily in a chimney but still need an appliance that can take care of a regular-sized Indian kitchen, this is for you.
As it's 60cm in size, it's enough for a 2-4 burner gas stove area. The reason why it's cheaper as compared to the other models is that it does not have auto-cleaning technology. You'll have to manually clean the appliance.
Also, it has a comparatively lower suction rate of 1100 m3/hr. If you think that it's a really big con, no it's definitely not. It's just a difference of 100 units. That will definitely result in slow working as compared to 1200 m3/hr chimneys but it's almost negligible.
It has 1 baffle filter that needs cleaning in 6 months and this model comes with a year of warranty on the device and again 5 years down the line on the motor.
Another reason why it's a bit cheaper is that because it does not have touch & motion control, in fact, there are just push buttons to control this chimney.
Overall, if this suits your budget and requirements, this Hindware Sabina 60cm 1100 m3/hr kitchen chimney is definitely a smart choice.
4. Hindware Clarissa 60cm 700 m3/hr (2 Cassette Filters)
Hindware Clarissa Black 60cm chimney is for those people who are looking for the most affordable and best option for normal kitchens. If you don't do heavy oily experiments inside your kitchen but still want to install a kitchen chimney, this is for you.
It has just a 700 m3/hr suction power that can clean the smoke present inside the kitchen during cooking. And the 60cm size is a good choice for a 2-4 burner gas stove.
Also, one more thing to notice here is that it's neither a baffle filter chimney nor a filterless one. It has 2 cassette filters that work upon separating the oil & greasy part.
The design of the chimney looks pyramid in shape and gives a decent look when installed inside a kitchen. The controls of this chimney are push-button type and easy to use as well.
Definitely, it's a good choice if you don't need a powerful chimney as you do not have much grilling or frying in your kitchen.
5. Hindware Cleo 60cm 1200 m3/hr (1 Baffle Filter)
The Hindware Cleo 60cm is another best hindware baffle filter chimney that comes with a standard suction rate of 1200 m3/hr.
It comes with a single baffle filter along with a touch control panel. Just like the other models, this chimney also has a year of device warranty and 5 years on motor.
There is a dedicated oil collector installed in this chimney to make your cleaning work much easier for you. It's just like all other hindware chimneys in this list.
But what makes this Hindware Cleo 60 a bit more unique is its Water Auto-Clean technology. This hindware chimney model is available in both 60cm and 90cm sizes.
You can go with the one that suits the good fit as per your stove and kitchen area. Overall, it's a really good choice to make in 2023. Yes, it's one of the best hindware chimneys in India 2023.
6. Hindware Elena 60cm 1100 m3/hr (Baffle Filter)
The Hindware Elena 60cm chimney runs on a powerful 1100 m3/hr suction power that is more than enough to handle heavy oily Indian kitchens. The control system of this chimney is push-button type.
This chimney is available in 60cm & 90cm sizes just like the other high-end models. It has a good steel-built baffle filter that is very easy to clean as well.
With the help of auto-clean technology, the cleaning process becomes much simpler than you can expect. The overall design of this chimney is very elegant too.
The body comes with two led lamps deployed so that you can turn on these lights while cooking to focus much better on the dish being prepared.
For its price, it's definitely one of the good options available in India. The device comes with 1-year warranty support along with the same 5 years warranty on the motor.
7. Hindware Optimus iPro 60cm 1350 m3/hr (Filterless)
The Hindware Optimus iPro 60 is one of the most premium kitchen chimneys in India. If you have a really good budget and you want a high-end kitchen chimney at your home, this one is for you.
The design of this chimney is a lot very different from the rest of the other hindware chimneys in the list. It looks really unique and stands out from the crowd in the market.
It is a filterless technology-based chimney that has been powered up along with auto-clean technology as well. The very special MaxX Silence technology of this device makes it a way better option than the other models.
This is an advanced noise cancellation technology that reduces up to 32% less noise. This enhances the overall cooking experience as you no longer would hear those chimney noises in the kitchen while cooking.
The powerful 1350 m3/hr suction power makes the smoke disappear from the kitchen in a few minutes. The chimney has a touch-based control along with motion sensors as well, which is very beginner-friendly.
One more special thing about this chimney is that it comes with IoT support. What that means is that it comes with mobile-based controls as well. Also, you can connect the chimney along with your smart speakers like Alexa & Google Home as well.
The warranty on this hindware chimney is the same as well 1 year on the device & 5 years on the motor. If you want a premium cooking experience and are ready to spend any amount, this chimney is just for you.
This chimney has everything that you would ever need. If you want a really powerful and modern technology-based kitchen chimney, this is a must include in the best hindware chimney review list in India 2023 available in the market.
Reasons to Buy Hindware Kitchen Chimney
When there are so many brands available in Indian Market, why should you trust this newly born brand in India, Hindware? Let me tell you some of the best reasons why should you go with the Hindware brand.
If you want a really affordable machine with no issues with its working. Hindware is one of the best brands available to date in India. Hindware kitchen chimneys are way cheaper as compared to the other brands in the market. Even though they are cheap, they still give you the same premium experience in the kitchen.
Another good reason why people are more and more trusting hindware brands is because of their after-sales customer support. A lot of brands these days, just sell and forget. On the other hand, to build a massive trust base in India, Hindware provides really good after-sales support. If you have any queries or issues with your appliance. You can contact Hindware customer support.
Another good reason why hindware is becoming more popular in India is because of its features inside the chimney. While other brands are providing the same old technology, Hindware has introduced their MaxX Silence Technology that almost kills the noise produced by chimney motors inside the kitchen. Similarly, a lot more features are waiting for you to discover inside the hindware kitchen chimneys.
FAQs for Best Hindware Chimney Reviews
1. Which brand should I choose, Elica or Hindware?
To date, Elica is considered to be the best kitchen chimney brand available in India. But trust me, hindware is no less than that. They have just entered the market and still got so much hype in the market in a very short span of time. If you have a decent budget you can opt for the Elica chimneys, else we highly recommend you to get the Hindware chimney as they are very affordable.
2. Does Hindware MaxX Silence Technology really reduce noise?
If you doubt this technology, let me tell you that their MaxX Silence Technology really reduces noise and produces up to 30% less noise. While other kitchen chimneys, produce distracting noise in the kitchen, you can experience a clean and clear cooking experience with this modern technology.
3. How often do I need to contact Hindware for maintenance?
If you get an auto-clean filterless kitchen chimney, you don't really need any type of yearly or half-yearly maintenance. But if you got a baffle filter type one, you need to either contact hindware for the maintenance or you can yourself as well clean your kitchen chimney at home.
Yes, Hindware is a new brand but they have already built a good trust base in the market. If you're looking for the most affordable kitchen chimneys in India, make sure you look up to Hindware.
They are known for being the best and most affordable kitchen chimney brand in India. We have provided you with so many options in the list from filterless chimneys to baffle & cassette filter ones.
It's now up to you which one should you go with, we recommend opting for filterless chimneys if you have normal oil usage in the kitchen, else you must go for baffle filter type of chimneys if you have heavy oil usage inside your kitchen.
Filtered types of chimneys are always more efficient than filterless ones, just like a wired device is better than the wireless one.
This was our list of the best hindware chimney reviews in India 2023. Let us know which kitchen chimney you are getting for your home? Did you checked the hindware chimney price list 2023 section?
If you have any queries, let us know in the comments below. Thanks for reading this guide till here, for more amazing chimney info, subscribe to The Chimney Guide!