Every Individual home has its own design. These days even before building a home, people hire an architect to create the complete architecture of their dream house.
One of the significant and important aspects of a good architectural design is the kitchen design. The kitchen is considered one of the most essential parts of a home.
Now if you are looking to purchase a kitchen chimney, it completely depends upon the type of kitchen design you already have in your home.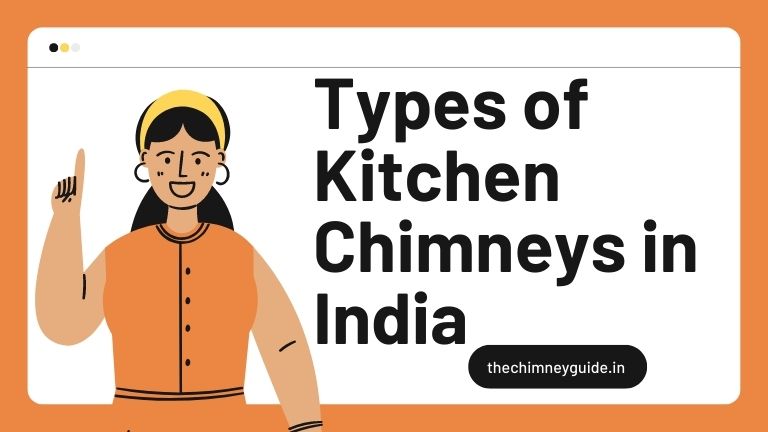 There are different types of kitchen chimneys in India. But which one will suit the best for your home? That's the main question that arises here.
In this guide, we will discuss the different types of kitchen chimneys in India, and important information about these different chimneys. This will surely help you in determining which type of kitchen chimney your kitchen needs.
Types of Kitchen Chimneys in India (Complete Guide)
When you are planning to buy a kitchen chimney, there are several factors that you need to look up to. You can't just buy any kitchen chimney that you see online and get fascinated.
You have to check the features of the chimney, is it an auto-clean filterless technology chimney or a basic baffle filter chimney, what are the maintenance cost etc. If you're looking to buy a chimney, you must read this guide.
You have to dedicate thorough research in order to make sure your investment doesn't go wrong. At The Chimney Guide, we try to make the research process easier for you by presenting our detailed kitchen chimney-related information and guides on this blog.
While buying a kitchen chimney, there are three important aspects that you have to look up to. Space for the chimney in your kitchen, Gas stove size, & the design of the kitchen.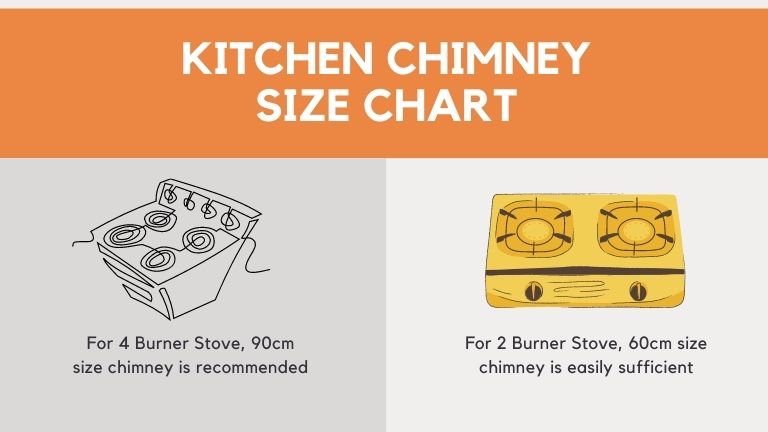 Gas stove size & number of burners determine the size of the chimney you will need and chimney size along with the design of the kitchen will determine the type of chimney you need for your kitchen.
Here are the popular commonly available kitchen chimney types available in India. You can choose the best out of these which suits your kitchen design.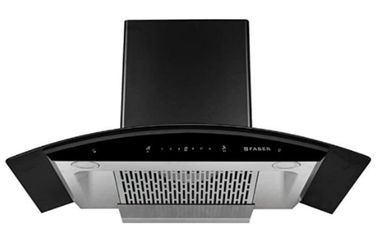 Wall-Mounted chimneys are the most commonly available and popular type of kitchen chimney in India. All the chimney brands that you hear about like Elica, Faber & Hindware are popular for their Wall-Mounted chimneys in India.
Just like the name goes, Wall-Mounted chimneys are attached or mounted along the walls of the kitchen. To install a wall-mounted chimney, there must be space between your cabinets to install the chimney.
Also, you have to make sure that the chimney is properly aligned above the stove and it should cover up the complete stove area. You get to see several stylish wall-mounted chimney designs in the market, you may choose the one as per your preference.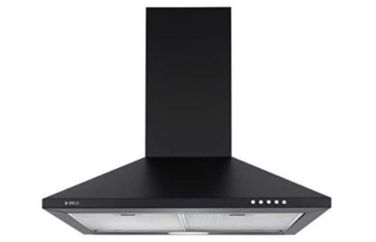 Island kitchen chimneys are the next very popular type of chimney in the Indian market. A lot of kitchens are designed where the stove and the main cooking panel is not located alongside the wall. Instead, the cooking stove is placed in the center of the kitchen where there is no surrounding wall but there's just a stylish table placed above which the stove is placed.
For those kinds of kitchens, Island chimneys are considered to be the best choice. Just like Islands are the place in the middle of an ocean, Island chimneys are also hung above the stove in the middle of the kitchen.
Island kitchen chimneys are majorly popular for luxurious kitchen designs where there is huge space in the kitchen. It is not recommended for a regular Indian home as there is quite very less space in the kitchen. Also, most Indian middle-class homes prefer wall-mounted chimneys.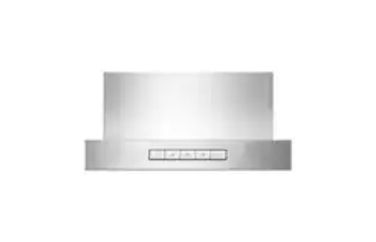 Built-in kitchen chimneys are very popular these days for modular kitchens. Basically, Built-in kitchen chimneys are just like wall-mount chimneys but these chimneys are mostly kept under a cabinet or a furniture surface, giving it a more elegant look in the kitchen.
This makes it look a bit more classy as only the external body of the chimney is visible to you. Built-in kitchen chimneys do not require much space in the kitchen as they are very compact so they can fit inside a cabinet or wooden furniture.
If you have a modular design in your kitchen, you can try looking for built-in kitchen chimney options as they are the best choice for modern kitchens in India.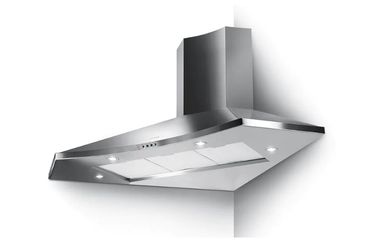 Corner chimneys are considered to be the go-to option for kitchens having corner cooktops. As you hear it by the name itself, corner kitchen chimneys are placed in the kitchen corner.
These kitchen chimneys are very compact in size so they do not require much space in the kitchen. If you have a small kitchen with your cooktop in the corner, Corner chimneys might be the suitable option for you.
Just like all other chimney types, corner chimneys are also available in different shapes, sizes, colors, variants, etc. You can choose the design that suits classy along with your current kitchen look. Again, don't forget that the chimney must cover up all the burners of your stove completely.
In India, Wall-mount chimneys are the most preferred choice. This is because of the fact that they can be easily installed in any kitchen just alongside the wall.
Unlike other types of chimneys like corner chimneys & cabinet chimneys, you don't need to take measurements and build a compartment for the chimney installation.
All you need to do is mount the chimney over the wall above your cooktop. That's why wall-mount chimneys are very popular in India.
But still, all these different types of kitchen chimneys are available in India. Because there are a lot of people who prefer going with cabinet, island, or corner chimneys.
Most of the time, only luxurious homes having big sized kitchens prefer these types of kitchen chimneys in India. Regular middle-class families still prefer going with the Wall-mount models.
I hope this guide was useful for you in understanding the different types of kitchen chimneys in India. This guide should help answer your question that which type of chimney you should buy. For more detailed kitchen chimney information, keep visiting The Chimney Guide!