While talking about the best kitchen chimneys in India, most people are just comparing Elica vs Faber chimneys. If you are confused and struggling to choose one of these brands, here we are to guide you through a clear way from this confusion.
Indian kitchens are mostly about masalas & tadka. I bet you can't find any home in which at least one person isn't a die-hard fan of fried & spicy food.
Taking this into consideration, installing a chimney in the kitchen has become a really important part of our homes. If you have done some research about kitchen chimneys, you already know Elica & Faber are the topmost kitchen chimney brands in India.
It makes a lot of people confused about which brand should they go with. Which chimney model is the latest and best in the market? If you are also having the same confusion, here is our complete guide on Elica vs Faber Chimneys.
Elica vs Faber Chimneys - Brand Overview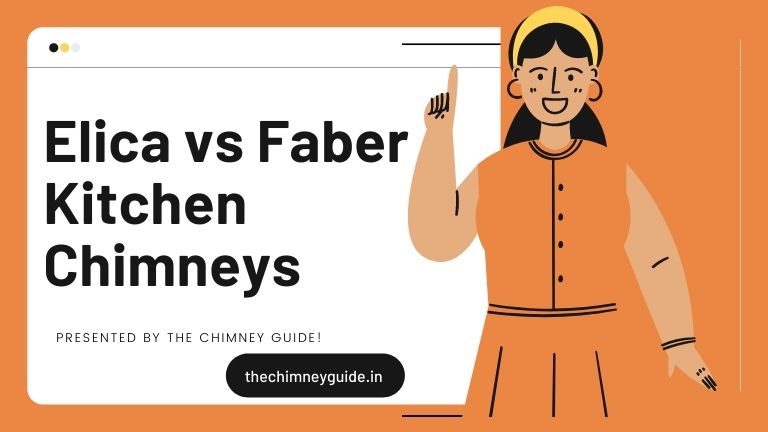 Elica is an Italian kitchen hood manufacturing company that was established back in the year 1970. But they entered our Indian market around a decade back in 2010.
Faber is an Italian very popular kitchen hood brand that began in 1955. But they have survived quite a long time here in the Indian market too.
Both of these kitchen chimney brands are known to be the best kitchen chimney brands available in India. This is due to the fact that they have a wide variety of options under each segment. If you are confused about which one to go for, don't worry we'll make your confusion clear by the end of this article.
Just to give you a quick understanding, Faber is more known for its affordable filterless kitchen chimney models, whereas Elica is very popular for both baffle filters & auto-clean filterless chimneys as well.
Elica vs Faber Chimneys - Which models to buy?
Elica & Faber both have a wide variety of models available in the Indian market. From baffle filters, cassette filters to even the latest fancy filterless models. Both of these brands have a huge collection of products available in each category.
Elica is our first recommendation for most consumers. If you are looking for a 60cm baffle filter type of chimney, our first recommendation to you is the Elica WD HAC Touch BF 60 model.
On the other side, we recommend going with the Faber HOOD PRIMUS PLUS model if you want a baffle filter chimney by the Faber brand.
Whereas if you ask us about the best 60cm filterless kitchen chimney, then Elica & Faber, both have really worth for money products available in the market.
At very competing prices, both of these brands have very similar products available in the market. Talking about Elica, the Elica WDFL 606 HAC MS NERO is what we recommend to you if you're looking for a 60cm filterless type of chimney that comes with auto-clean technology and motion controls as well.
Whereas, Faber has currently a number 1 selling model that is the Faber HOOD EVEREST SC TC HC BK 60. This kitchen hood as well comes along with auto-clean & motion sensor technology.
Elica vs Faber Chimney - Specs Comparison
To be honest, Elica & Faber both have almost similar specs around the same price bracket models. But to give you an overview, here is a table that compares both of these brands on the basis of different aspects such as, price, technology and support.
| | | |
| --- | --- | --- |
| Aspect | Faber | Elica |
| After-Sales Service | Most of the consumers claim Faber is really good at their after-sales support. | Elica also has a good after-sales service but some people complain about it. |
| Auto-Clean Technology | Faber is very famous for it's filterless auto-clean chimney models. | Elica also have a wide variety of options to choose from in auto-clean chimneys. |
| Noise | Faber have models with very low noise levels. | In comparison to Faber, Elica silent chimney models perform way good than Faber ones. |
| Suction Power | Faber has chimneys with over 1500 m3/hr suction power. | The most popular Elica chimney with highest suction power is with 1425 m3/hr. |
| Pricing | Faber chimneys are very affordable compared to other brands. | Elica is considered to be the most affordable and best kitchen chimney brand in India. |
| Warranty | 1 Year Device with 5 Years Motor | 1 Year Device with 5 Years Motor |
I hope this chart gives you an overview about the Elica vs Faber chimney comparison. Overall, both of these brands have their own manufacturing unit in India. That is one of the major reasons why their chimneys are very affordable in the market compared to other brands.
Reasons to Choose Elica Chimney
Comparing Elica against every other brand, here are a couple of major reasons why you should go with Elica chimneys. Let's start our quick overview.
If you are especially getting the chimney to replace it with that old fashioned noisy exhaust fan, then you are going to love the elica chimneys. In the whole Indian market, Elica kitchen chimneys produce lowest noise at their working. They give you a smooth & silent operation.
The number one reason why Elica is way much popular in the market is because of their affordable pricings. No other brand offers so much features & functionalities at such price brackets. Even Faber is comparatively a bit expensive compared to Elica chimneys.
Under each price section and under each category, you get to see so many different models with unique designs and features. You have the option to choose your chimney from a wide variety of models available from same brand. That's a really huge plus point.
Here are our Top 3 Recommendations for you if you want to go with the Elica kitchen chimneys. No doubt, these are the top-sellers and best Elica chimneys in India.
Reasons to Choose Faber Chimney
Just like Elica, Faber has its own USPs. No doubt it is the second best-selling kitchen chimney brand in India. There are a few strong reasons behind that. Here are our thoughts on why you should choose Faber kitchen chimneys for your home.
A very good thing which I personally really like about Faber brand is that they don't just keep selling old manufactured models to the consumers. Back in year, 2020, Faber launched a variety of new variants of their old models by upgrading them with unique designs.
Unlike other brands, Faber has comparatively very reasonable pricings for their models. This is because of their models have really good built quality compared to other brands. If you compare the prices of it's similar models with Elica, Faber is a bit more expensive than Elica.
If you ever face any problems within your warranty period of the device, which I bet you'll never face because of the quality of device, you can easily contact the Faber support team and let them handle everything for you. Faber have a lot of service centers in almost every metro-city, you can easily get it repaired.
Here are our Top 3 Recommendations for you if you are thinking to go with the Faber chimneys. We have even considered these models in our Faber chimney reviews guide.
To conclude this guide, Elica & Faber, both are the top-notch and most reputed chimney brands available in the country. You can go with either of these brands depending upon your budget and as well as your needs.
Just go through our buying guides of these brands and choose any model that seems interesting to you. Most of the models have similar features in both brands, you may choose the model that you think would look good because of it's design inside your kitchen.
At last, if you have a low budget and want a baffle filter chimney, go with the Elica chimneys. If you have higher budget and you want to invest in a filterless chimney, Faber might be a good option for you.
We hope this guide about Elica vs Faber chimneys was helpful for you to choose one of these brands for your home. Did we missed anything? Or you have any queries left. Kindly leave them us for below. We'll see you in the next post! Stay tuned!